Wet lab
Central national infrastructure for high-density data
Central Next Generation Sequencing laboratory
The laboratory offers ELIXIR-SI owned state of the art NGS and other high-throughput laboratory equipment, tools and services.
Laboratory equipment manager: research assistant Jan Gojznikar. Contact: elixir.mb@mf.uni-lj.si
Laboratory for single cell analysis
The laboratory offers ELIXIR-SI owned state of the art equipment, tools and services for single cell analysis.
Coordinator of the use of research infrastructure in both laboratories: research associate dr. Polonca Ferk. Contact: elixir@mf.uni-lj.si
| | |
| --- | --- |
| ELIXIR-SI RI-SI-2 project Research equipment | |
Central Next Generation Sequencing laboratory
Laboratory for single cell analysis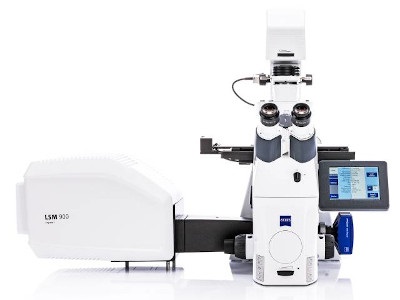 The LSM 900 confocal microscope allows the study of the three-dimensional distribution of fluorescently labeled molecules in cells and tissues. It is adapted to work with in vitro systems such as cell and tissue cultures, organoids and tissue slices.
The confocal system includes a chamber for maintaining cells at an adjustable temperature and gas concentration (CO2 and O2), which allows long-term experiments on living cells and the study of cell-physiological processes in these cells.
Location: UL MF (KRZS).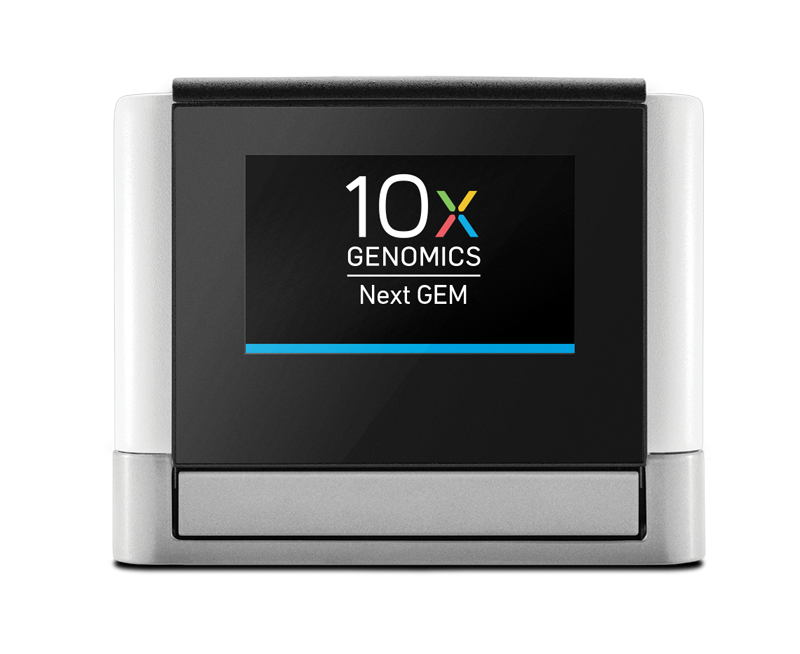 The Chromium Controller enables Chromium Single Cell (SC) and Linked-Reads Genomics Solutions. Chromium SC analyses include gene expression, epigenetics (ATAC), cell surface proteins analysis, immune profiling and targeted gene expression on a single-cell level.
The Chromium platform, powered by Next GEM technology, enables integrated analysis of SC at a massive scale. The key to this technology is the ability to generate tens of thousands of single-cell partitions, each containing a unique identifying barcode for downstream analysis.
Location: UL MF (KRZS)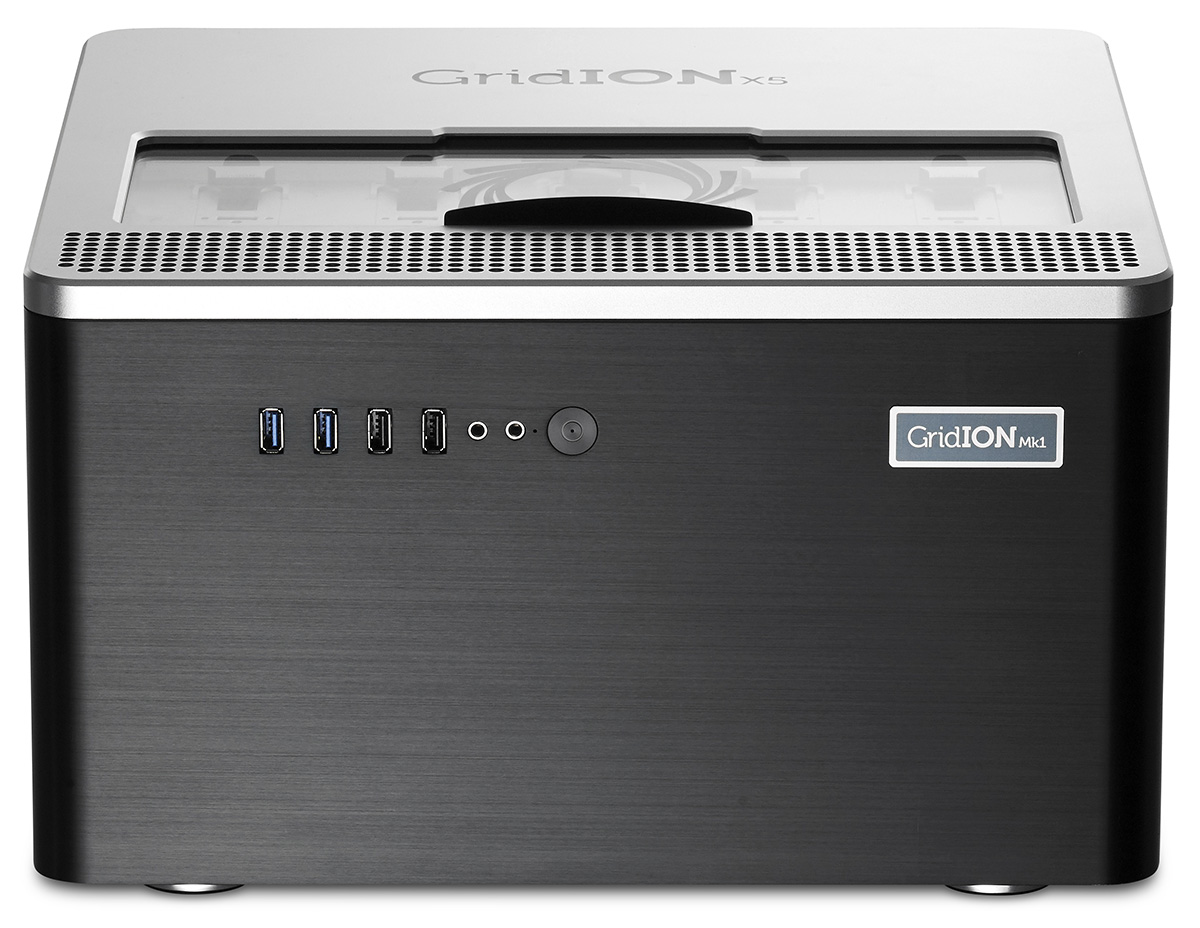 GridION is a third-generation sequencer from Oxford Nanopore Technologies, which enables long DNA, RNA or cDNA fragments sequencing. Nucleic acid sequence identification is based on the change in electric current during the passage of DNA/RNA through a protein pore.
Sequencing can take place on 5 flow cells simultaneously, on which up to 150Gb can be read in total, thus enabling the sequencing of genomes and transcripts of all types of organisms, including humans. Nanopore technology enables sequencing and assembly of as yet unknown genomes. The computer capacity of GridION enables base-calling in real time and thus enables monitoring and control of the sequencing process.
Location: UL MF (KRZS).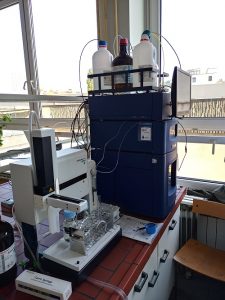 Preparative flash/HPLC chromatograph puriFlash® 5.250 is used for the isolation of pure compounds from complex mixtures, e.g. natural extracts. It enables isocratic, as well as gradient (up to 4 solvents) separations that are performed either at low pressures (flash chromatography) or high pressures (up to 250 bar – preparative HPLC). The presence of compounds in the eluent is detected by DAD and ELSD detector. Because the system is equipped with an autosampler and fraction collector, work with it is highly automated.
The instrument, among other possible usages, enables isolation of pure compounds from natural extracts and therefore enables studies, which would elucidate connections between the structure and function of natural compounds. The experimental results, obtained on pure compounds, will also be explained by methods of computational chemistry.
Till now, the method for isolation of xanthohumol from hop extract was developed, while the isolation of sufficient quantity for testing the antibacterial activity is in progress.
Location: UM, FKKT (KRVS)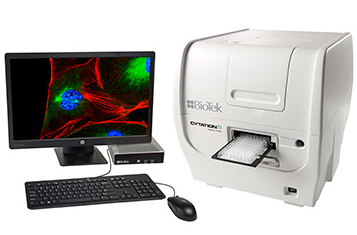 CELL MAPPING SYSTEM AND AUTOMATED MICROSCOPY – CYTATION 5, Manufacturer BioTek (supplier Kemomed, d.o.o.)
The cell imaging system enables automated digital microscopy, compatibility with microtiter plates, microscope slides, Petri dishes, bottles for culturing cell culture hemocytometers, allows work with living cells (incubation up to 65 ° C, shaking, optionally also O2 and CO2 control system). Fast cooling after incubation or maintenance of stable ambient temperature (optional additional pellet cooler) should be used, with optional addition use of two reagent injectors, for automatic engineering of reagents during imaging or measurement, and optional possibility of integration with an automated system for simultaneous incubation of up to 8 microtiter plates it is possible to upgrade the system in a multifunctional system that allows the measurement of absorbance, fluorescence, luminescence, fluorescence polarization, and alpha detection.
The system supports the user by enabling: the creation of histograms for data obtained and cell analysis, use of masking for analysis of cytoplasm of cells or whole cells, analysis of intracellular objects, spot counting, analysis of subpopulations with custom-created criteria, use of dynamic thresholds sensitivity in cell mask analysis, production of z-projections, imaging of 3D cell cultures, monitoring of cell migrations, invasions, apoptosis, cell viability, monitoring of fast kinetics, imaging of living cells, and whole organisms (image gluing). The system allows statistical processing of images, automatically identifies patterns for painting (i.e. hit-picking function).
The software also comes with image capture and analysis. The tool is easy to use for users to be supported throughout the retrieval workflow to data processing in an independent user interface. The tool enables the conversion of raw data into images into results, automated image capture, data processing, and analysis in an image retrieval system in ready-to-publish databases.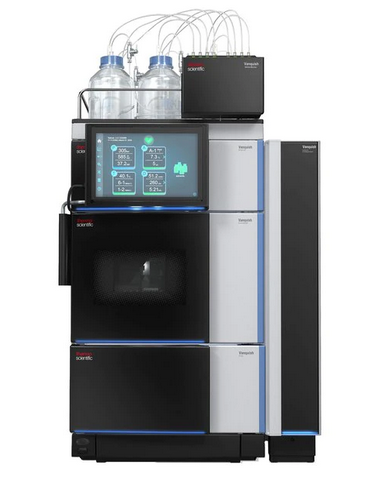 HPLC chromatograph Vanquish Core® is used for qualitative and quantitative analysis of various samples. Instrument is equipped with DAD (PDA) detector, which enables determination of concentration of various compounds with chromophore, as well as estimation of peak purity.
Instrument is used in isolation of various natural compound from crude natural extracts. It is used for determination of various compounds concentrations in crude natural extracts which are used as a starting material for isolation of pure compounds. Furthermore, during the isolation process the instrument is used for determination of concentrations and purity of compound of interest in fractions, obtained using preparative chromatography. Finally, it is used in determination of chromatographic purity of isolated compounds.
Successful application: The instrument was recently used in support of isolation of xanthohumol from hop and vescalin and castalin from chestnut wood.
Cryo-transmission electron microscope with basic IKT support
ARC High performance computing center
Hyperspectral cameras:

The two pushbroom imaging spectrometers; HySpex VNIR (spectral range 400–988 nm) and SWIR (950–2500 nm) (Norsk Elektro Optikk AS),
Multispectral camera 5 bands, RedEdge (Micasense)
Several qPCR machines (Thermofisher, Roche) and Hamilton pipetting robot
Droplet digital PCRs QX100 (BioRad)
Chamber digital PCR BioMark HD (Fluidigm)
CISLD
NGS sequencers (Illumina Miseq, ONT MinION)
NGS library prep infrastructure (enrichment, WGS, RNASEQ, ChIPSeq, long-reads libraries, miRNA-SEQ, Epi-SEQ)
cfDNA/RNA infrastructure
Cell Lab
Brightfield and Flourescent Microscopy Infrastructure
KIMG
NGS sequencing machine IonProton™ including all necessary equipment
Sanger sequencing machine ABI Prism 3130XL with 16 capillaries
Equipment for DNA/RNA/protein analysis (PCR, qPCR, electrophoresis, gel documentation system, samples quantification)
Linux server with 12 cores, 170 GB RAM, 18 TB disk space
Software: CLC Genomics Workbench, CLC Genomics Server, Codon Code Aligner, BLAST2GO command line
CFGBC
Genome and Transcriptome analyses
• High density microarrays
• Next Generation Sequencing
Metabolomics (shared, at Vrazov trg 2)
• high performance liquid chromatography with mass spectrometry
Cell culture lab and functional analyses
Ion Torrent PGM sequencer with Ion OneTouch2 (Ion Torrent, Thermo Fischer Scientific)
Ultrasonicator Covaris M220 Focused
1 x system for the evaluation of DNA, RNA and proteins LabChip GX (Caliper – Perkin Elmer)
Dell PowerEdge R730 Server
MALDI-TOF mass spectrometer (Bruker Daltonics Inc.)
2 x real time PCR instrument ABI PRISM 7500 Real Time PCR System (Applied Biosystems)
1 x real time PCR instrument Rotor-Gene Q (Qiagen)
2 x real time PCR instrument (LightCycler 1.2, 2.0 LightCycler, Roche)
1x realtime PCR instrument QuantStudio 5 Real-Time PCR Systems (Applied Biosystems)
1 x digital PCR 3D QS (Applied Biosystems)
capillary sequencer (ABIPRISM 310, Applied Biosystems)
Several PCR instrument (Biometra, AB-Thermo Fisher)
1 x system for gel documentation GenGenious (Syngen)
1 x capillary electrophoresis QIAXCEL (QIAGEN)
Ultracentrifuge cooling (Beckman)
1x Kingfisher automated nucleic acid extraction instrument
Computer cluster KROP1
Computer cluster KROP2
2x UV/Vis spectrophotometer
| Oprema | Nabavna vrednost (EUR) | Navedi tip opreme (distribuirana; mobila; na lokaciji; virtualna) | Raziskovalno področje | Vir sofinanciranja iz javnih sredstev (evropska kohezijska sredstva; drugi javni viri) | Opis postopka dostopa do opreme - (čas; največ 5 stavkov) | Namembnost opreme in dodatne informacije (največ 5 stavkov); | Cena za uporabo raziskovalne opreme za izučenega uporabnika (v EUR/uro) | Letna stopnja izkoriščenosti v % v pretek. koled. letu | Spletna stran RO (predstavitev opreme; pogoj dostopa; cenik) | Številka | Mesečno povprečno število uporabnikov | Mesečna povprečna stopnja izkoriščenosti v % |
| --- | --- | --- | --- | --- | --- | --- | --- | --- | --- | --- | --- | --- |