ELIXIR-SI Activities
Key ELIXIR-SI Activities are data science/dry laboratory, wet laboratory and training/education.
Data science includes infrastructure for long-term data management and archiving, data analysis, integration, interoperability and data stewardship. This is supported by Cloud data services, High-Performance Computing (HPC) and latest bioinformatics software, all in accordance with ELIXIR standards and principles, eg. FAIR principles (Findable, Accessible, Interoperable, Reusable).
Wet laboratory science generates -omics and biochemical/molecular data from various biological samples. It is a Central national infrastructure for high-density data.
Training and education are intense activities of ELIXIR-SI. One of the most intensely developed training tools is ELIXIR-SI eLearning Platform (EeLP) which is used for material aggregation in a growing number of highly recognized ELIXIR courses.
Other services include Computation modelling and simulation led by UL-FRI and Computation modelling and simulation led by ARNES, IJS and UL-MF.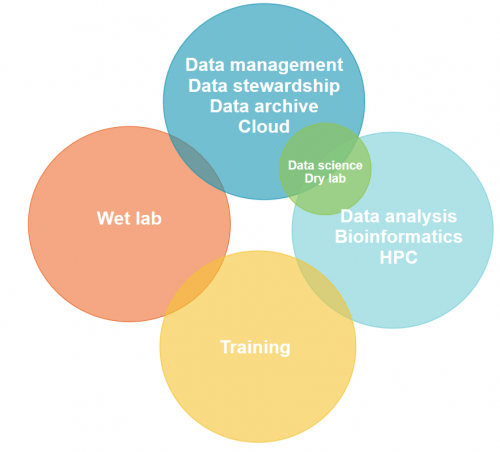 Search ELIXIR portals for more services: